Luke 9:23 Then he said to them all: "If anyone would come after me, he must deny himself and take up his cross daily and follow me.
When I see myself taking up my cross, it's heavy. I imagine unbearable weight and stumbling. It's a burden after all, right? Isn't that what Jesus means in this verse?
Studying further into this verse, I was astounded. "Take up" here in Luke actually means "to hold high, like a banner, for all to see."
So the cross I bear to follow Jesus is not a heavy burden, but a brazen banner! I've been going about this all wrong. To follow Him is not a heavy yoke, but a banner to proudly wave so all others can know and see HIM.
~
counting...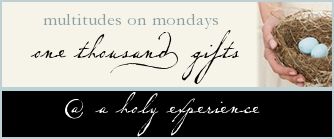 #75 buttery popcorn, homemade
#77 soft conviction
#78 friend, non-judgemental
#79 mucinex!
#80 19 yr old brother showing maturity
#82 budding friendship